LINK="#000000" VLINK="#000000">

"Haunted Memories" 8" x 10" Changing Portraits!
Wholesale Price: $10.00 each (unframed)
Made in the U.S.A. to artist Edward Allen's high standards, these deluxe 8" x 10" changing portraits do not suffer from the image shadowing commonly seen in lenticular art. "Haunted Memories" portraits feature photo-realistic imagery with sophisticated MULTI-stage transformations, which make them the best money can buy! (Note: Portraits are sold UNFRAMED only!) Click the images below to see both the "before" and "after" stages for each character!).
Updated: July 31st, 2015:
UPDATE: We are reprinting 8x10s of "Aunt Tilly," "Midwestern Matricide," and "The Haunted Marsh," as well as bringing out an 8x10 of the newest piece "Mother's Revenge." These will be in stock and ready to ship out in mid-August. "Buy-it-Now" buttons for all 8x10s will be coming shortly.
Due to the expense of manufacturing in the U.S.A. with high-quality materials, "Haunted Memories" only produces a relatively small quantity of these awesome collectibles. The characters on this page that are not marked "Sold Out" are still available, but they are selling out fast, so get your orders in today!
Please note that we cannot hold stock and we cannot do Net 30 or any other loan programs. Items are sold on a first-come, first-served basis and immediate shipping and full payment is required for these extremely popular collectables. Please call 562-810-5317 to place your order. Thanks!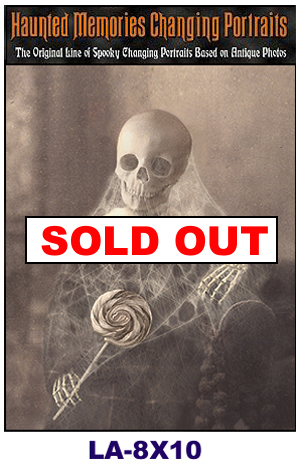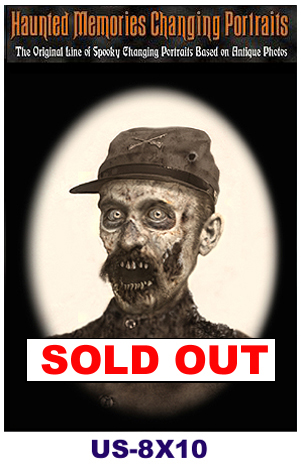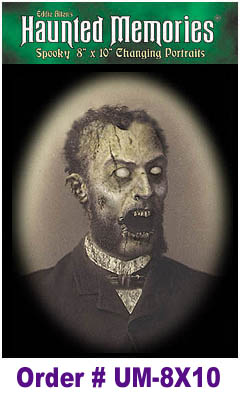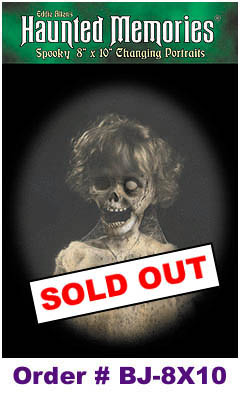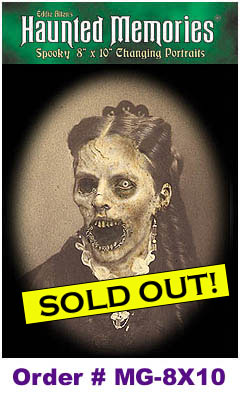 ---
---
LIMITED-EDITION OF 1000 EACH
Only 1000 of each of the three painted images were produced, and they will not be re-printed, so get them while you can! Featuring source artwork by Alan M. Clark (pirates) and Leon Franks (clown), these exquisite changing portraits have already become collector's items!
Call 562-810-5317 to place your orders! Supplies are LIMITED so don't delay!
---