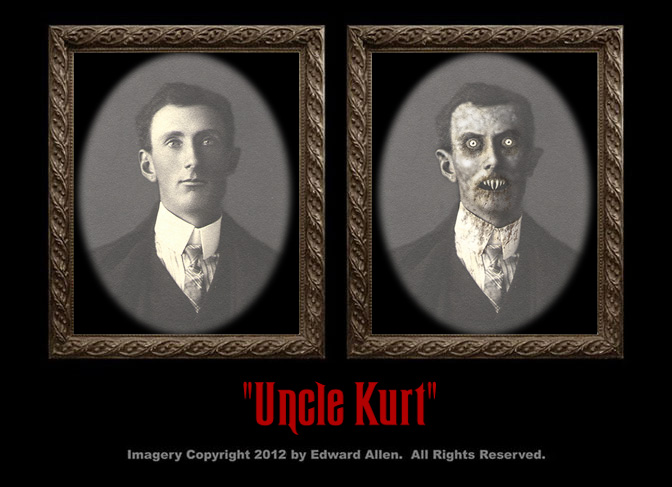 We always dreaded Uncle Kurt,
Who dressed quite well, but smelled of dirt
His shoes were caked with graveyard mud,
And all his collars stained with blood...

-Edward Allen
July 28th, 2012
Video clip image coming soon!
---
VISA / MASTERCARD/ DISCOVER OPTIONS

We are sorry, but the 5x7 of "Uncle Kurt" has sold out.



PAYPAL OPTIONS
PayPal customers in the U.S.A. may purchase the 11x14 of "Uncle Kurt" for $59.99 shipped or the 16x20 version for $99.99 shipped. The 5x7 version may be purchased for $12.99 shipped AFTER August 25th, 2012. Please use the "SEND MONEY" option on the PayPal website and send your payment to neatmun@yahoo.com - Be sure to include a note specifying the portrait name and size that you are buying. Thank you!
International orders must add $30.00 to cover the extra postage for 11x14 and 16x20, but no extra is required for the 5x7. You can send that via PayPal, or if you are paying with Visa, Mastercard, or Discover, you may add it by clicking HERE
Questions? Call 562-810-5317. Thanks!
Use Your Back Button to Return to the Main Page