Welcome to my "Haunted Memories" website! My name is Eddie Allen, and I am the artist who created these changing images. The response has been tremendous and I really appreciate all the kind words and compliments I have received from people all over America - and the world!
I am often asked how I came up with this project, so I will tell you a little bit about myself.

I guess it all really started when I was a child. I have LOVED Halloween for as long as I can remember. My mother and older sisters always made it a special time, and my grandfather used to grow these enormous pumpkins for us. Reading ghost stories, carving jack-o-lanterns, and Trick-or-Treating were such fun activities. Even now, rarely does a day goes by where I don't think about Autumn, October, and the Halloween season with great anticipation. I am also a huge fan of Stephen King and "Salem's Lot" made a big impact on me when I was a kid. It's still one of the scariest books I've ever read!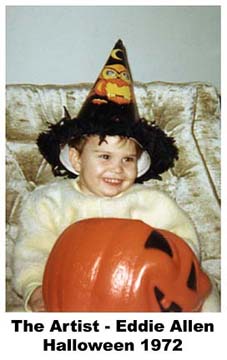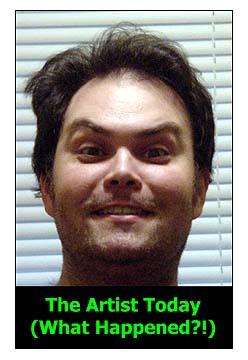 Having been steeped for many years in tales of witches, demons, and vampires, I tend to look at things a little differently than most folks. I always thought that antique photographs were a bit creepy. The old, unfamiliar clothing styles and the often dour expressions on the people's faces were fuel for my imagination. If I stared at them long enough, I could easily see them turning into hideously frightful creatures (usually vampires).
With "Haunted Memories" I have been able to unleash some of my fears for public consumption. It started with my first portrait, "Granny Glick," which I designed in April 2003. "Grandpa Esbat" followed quickly and within a month I had six "family members." Today the family numbers nineteen with number twenty on the way! Not everyone here is a supernatural monster, but they all feature a touch of the macabre. Together, they make quite a gallery, but even having just one can make such an impact. The reactions they get are simply priceless!
I hope you will enjoy adding these portraits to your collection. While they are especially fitting for a Halloween party or a Haunted House attraction, they are more than just mere props. I consider them gothic works of art which can be displayed all year round (if you're spooky like me!) They make wonderful conversation pieces and even better gifts!
Finally, one of the greatest things about this project is discovering that people I admire are also fans of my creations! Below is a photo of me with the great Rob Zombie, whom I met at Fangoria's Weekend of Horrors in Burbank in June 2005. Other cool horror celebrities I've met include Clive Barker, Wes Craven, Tobe Hooper, Crispin Glover, Miko Hughes ("Pet Sematary") and John Landis, to name just a few. Stay tuned for a gallery of photos!
--Eddie Allen
Artist and Originator of "Haunted Memories"
- The PREMIERE Line of Spooky Changing Portraits!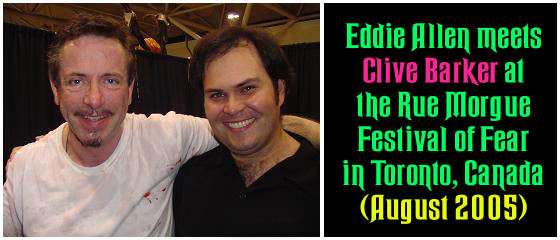 Eddie Allen meets Clive Barker at the Rue Morgue Festival of Fear in Toronto, where "Haunted Memories Changing Portraits" proved to be extremely popular! Clive is now the proud owner of a "Granny Gertrude" portrait, which he said reminded him of his much-feared grandmother! (Special thanks goes out to the staff of Rue Morgue Magazine for their unwavering kindness and support at this remarkable event!)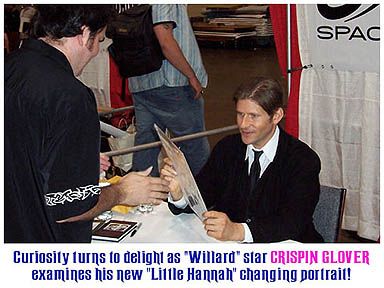 Use Your BACK Button to Return the the Previous Page