CUSTOMER SATISFACTION IS IMPORTANT TO ME!
If for some reason you are not completely satisfied with your purchase from me, I will work closely with you to resolve the issue. It may be in the form of an exchange or it may be a full refund of your purchase price, but one way or another, I will do my best to see to your satisfaction. Just call me at 562-810-5317 within five days of receiving your purchase and we can discuss it. (Please note that the initial shipping fee is refundable, but the return shipping is not).
HONESTY IS THE BEST POLICY
I pride myself on being honest with my customers. I work very hard to give my customers all the information
they will need BEFOREHAND so that they can feel secure about the quality of my work.
You'll never catch me hiding behind fancy flash animations that are not representative of the finished product. I proudly provide you with ACTUAL VIDEO EVIDENCE of how my finished portraits change. While the quality of my clips is low (to save bandwith), it is more than clear enough to see the changes, and that's what counts. The most common reaction people have upon receiving my work is that it looks even better in person and that the website alone cannot do them justice. With this type of artwork, that is very true. So rest assured that if you like it on-line, you'll love it in person!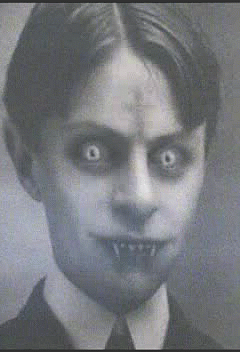 MY CUSTOMER FEEDBACK IS ALSO
GUARANTEED TO BE 100% AUTHENTIC!
The vast majority of my customer feedback is from PAYING CUSTOMERS. I feel that it is very important to know if a feedback quote comes from friends, relatives, co-workers, employers, employees, or beneficiaries of free examples. It really does make a difference. (After all, nobody who's been given a free portrait is going to respond with an unfavorable review - and if they did, you can bet that it wouldn't get posted on-line!). I have proof of the veracity of all my customer feedback quotes and I take this issue very seriously. (You should, as well!)
I ALSO HAVE VERIFIABLE POSITIVE FEEDBACK ON MY EBAY ACCOUNT
Any serious on-line seller will also have an ebay account where you can see what other ebayers have to say about their products and shipping practices. Please feel free to review what people wrote on my ebay account "haunted_memories." I am proud to say that my feedback rating is 100% with 337 positive feedback comments. Click the link below to check it out:

Use Your Back Button to Return to the Previous Page